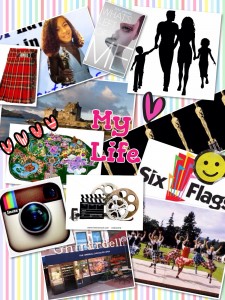 I am 35, and I have a husband and two kids. My husband is a good-looking guy. He is very funny. My daughter is 4 years old, and my son is three. My daughter is a funny, crazy girl. My son is athletic. He plays junior basketball and baseball. My mom takes care of them when I'm working.
I am a famous director. My last movie was based on the book What's Left of Me. It won Best Picture at the Academy Awards. It was an awesome night. I thanked my family, my best friend, and Mrs. Spiegelman and all of my other teachers for helping me when I was a kid. These people made my movies possible today. My best friend, MacKenzie, was there because she was nominated for Best Actress. She won that night, too, so we really had something to celebrate. We ate Ghirardelli's at the after party.
For fun, I like to travel and go to Six Flags. I  am taking my family to Scotland this summer to visit this castle, and to see the Scottish dancers. I want to wear a kilt there. I'm going to make my husband wear one, too! Then, I'm going to post it on Instagram. I also like to go to Disneyland. When I was in 6th grade, I hoped all of this would come true, and it did!